Judge Edward J. Garcia
1928-2023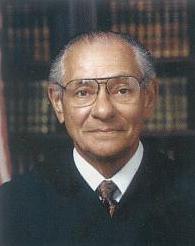 Judge Edward J. Garcia passed away on Saturday morning, April 29, 2023. Judge Garcia served as a U.S. District Court Judge in the Eastern District of California for 28 years. He was born to immigrant parents and grew up in the Alkali Flats neighborhood of Sacramento, near the railyards where his father worked. When interviewed by a Sacramento Bee staff writer when he retired in 2012, he pointed out that he could see from his chambers windows the street where he grew up and the former location of his grade school and church that he attended, all a few blocks from where he and his brothers and sisters would meet their father coming home from work.
Judge Garcia attended St. Joseph's elementary school and Christian Brothers high school, where he played running back on the football team. But his first passion was baseball. He was a lifelong fan of the San Francisco Giants and as a child attended home games with his father. Many years later, as federal judge, he would occasionally announce to his law clerks that a field trip was in order, and they would drive to San Francisco to watch the Giants play. He insisted on leaving early so that they could arrive in time to watch batting practice. He would even bring his own glove in case a fly ball would come their way.
Judge Garcia served in the U.S. Army Air Corp from 1946 to 1949 and was stationed in Japan following the war. He graduated from McGeorge Law School in 1958. After passing the bar exam he applied for a position at the Sacramento County Public Defender's office, but they did not have any openings at the time. He was told that the DA was hiring so he walked across the street to the District Attorney's office, where he began his career. He served as a Deputy District Attorney from 1959 to 1969, when he was promoted to the Chief Deputy District Attorney. In 1972 Governor Ronald Reagan appointed him to the Municipal Court, and while serving on that court he was elected by his colleagues to Presiding Judge of the Municipal Court. In 1984 President Ronald Reagan appointed him to the U.S. District Court for the Eastern District of California.
The Eastern District of California is graced with many national parks, national forests, and sensitive lands. Thus, not surprisingly, soon after taking the federal bench Judge Garcia found himself handling several complex environmental cases, not the least of which was a series of lawsuits that he referred to as the Lake Tahoe litigation. In the lead case he granted a preliminary injunction which extended a building moratorium on new development within the lake Tahoe basin until the Tahoe Regional Planning Agency completed a new regional plan and adopted building ordinances that would limit runoff and arrest the ongoing degradation of the clarity of the lake. He handled several other environmental cases including a challenge to the use of lead shot while hunting in National Wildlife Refuges, challenges to timber sales involving spotted owl habitat, and the regulation of grazing of cattle on federal lands. He presided over numerous other complex civil cases, including an antitrust trial in a case brought by the U.S. Department of Justice against the Rice Growers Association, which was represented by Joe Alioto, and a trial involving a claim by a New York attorney seeking a broker's fee over the movement of the NBA team, the Kings, to Sacramento.
On the criminal side he presided over several cases involving a corruption and bribery scandal of state politicians known as "Shrimpscam." In all six politicians were convicted, including one state senator that Judge Garcia sentenced to twelve years in prison. Given his former career as a prosecutor Judge Garcia had a strong background in criminal law. He was known for his expertise and preparation and no-nonsense approach in criminal cases. Lawyers had to be well prepared in his courtroom and he was equally demanding of prosecutors and defense lawyers. One assistant federal defender who was quoted by the same Bee staff writer when Garcia retired in 2012 described him as "absolutely even-handed." "He is an equal opportunity intimidator and really smart."
Judge Garcia took Senior Status on November 24, 1996 but continued to handle an active criminal case load until he retired on November 30, 2012. To celebrate his taking Senior Status his fellow judges gave him a new DeMarini Doublewall baseball bat that he used to great success as he continued playing with his Golden Seniors team. It was no small credit to that prized possession that in 2000 his team, the Golden Eagles, won the Golden Seniors World Series in Canada. He was proud of the championship ring he won, but more importantly, he cherished the friendship and camaraderie of his teammates, many of whom played together over 30 years and some of whom played together since kindergarten.
Judge Garcia is survived by his wife, Joanne, and their six children; daughters Linda Garcia, Aileen Ellsworth (Larry), Karen Telford (Ned), Jane Boyd (Fred); and sons, David Rice (Nita), and Rick Garcia (Brandee Mead). He is predeceased by his brothers Frank and Henry, and sisters Ernestine, Susan, and Theresa, and his son, Edward Garcia, Jr.