Welcome to the United States District Court for the Eastern District of California. The Eastern District encompasses the largest geographical area of the four districts in California. The district stretches from the Oregon border in the north to the Tehachapis in the south and from the Coastal Range in the west to the Nevada Border in the east. Main divisional offices are located in Sacramento and Fresno with outlying magistrate judges sitting in Yosemite, Redding, and Bakersfield.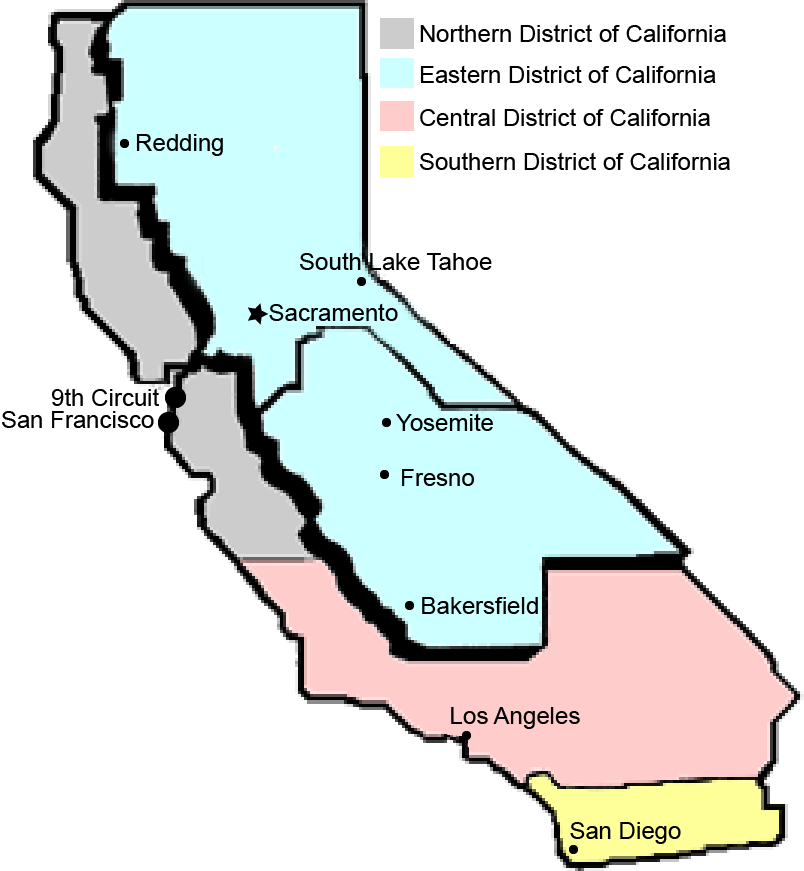 The Eastern District of California is part of the Ninth Federal Circuit. For information about court business, the District Court Annual Report provides a comprehensive overview and the District Conference facilitates a forum for discussion and education for members of the bar and court. For a history of the Eastern District, www.courthistory.org provides a comprehensive view of the court from its beginnings to present.

We hope you find this site informative and enjoyable.

This site is best viewed with a resolution of 1024x768 (or higher) and supports Microsoft Internet Explorer 8.0+ or Netscape 7.0+, Firefox 4.0+, and Safari 1.2+. We also recommend a minimum modem connection speed of 56Kbps and that you enable JavaScript and Pop-ups for this site in your browser's settings. Please visit the links below to download and install the latest version of your browser.
- Microsoft Internet Explorer
- Netscape
- Firefox
- Safari

Some of the content on Eastern District of California Website is presented in the Adobe Acrobat portable document format (PDF). You will need the free Adobe Acrobat Reader version 5.0 or later to view these documents. Please visit the link below to download and install the latest version of the Reader.
- Adobe Acrobat Reader

The multimedia files on Eastern District of California Website may also require the following free browser plug-ins:
- Macromedia Flash Player
- Microsoft Windows Media Player
- Apple QuickTime