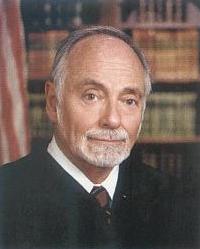 By Denny Walsh, longtime Federal Courthouse reporter for the Sacramento Bee.
July 12, 2015 08:36 PM
Updated July 16, 2015 10:17 AM

Lawrence K. Karlton, who arrived in Sacramento while in the Army and stayed to become a federal judge whose rulings were meant to help the disadvantaged people who needed them the most, died Saturday night at age 80.
Judge Kartlon retired from the bench at the end of last September and died of a heart problem at his home on the Garden Highway. His wife, Sue Karlton, his daughter, Emily Williams, and his beloved Charlotte, an 11-year-old wire-haired pointer, were with him on his bed when he died, Sue Karlton said. Williams, a daughter from Sue Karlton's previous marriage, was 3 years old when her mother met Karlton and 10 when they were married.
"He loved his family and he loved the law, and was fiercely proud of both," said Dale A. Drozd, a U.S. magistrate judge in Sacramento and the third person to serve as a Karlton law clerk.
Karlton built a legacy for protecting the rights of immigrants, prison inmates and others outside traditional power structures, and Marc Seitles, a former Karlton law clerk and now a criminal defense attorney in Miami, called him "a great liberal thinker."

The judge served 35 years as a judge in the Eastern District of California, a sprawling area that covers more than half of California's counties. He left private practice after 14 years in 1976 to accept an appointment to the Sacramento Superior Court by Gov. Jerry Brown, then in his first term as governor. He was nominated by President Jimmy Carter and confirmed to the federal bench in 1979.
"Karlton's written legal opinions on mental health care for inmates, amnesty for undocumented immigrants, and preservation of the environment will stand as lasting monuments to his deep caring for all living things," Drozd said Sunday.
Karlton was one of three judges appointed by the chief judge of the 9th U.S. Circuit Court of Appeals to an unprecedented three-member panel to deal with the lack of quality medical and mental health treatment in California's prisons. After a trial in 2009, the panel found that overcrowded conditions were the primary reason for unconstitutional health care, and ordered the state to reduce the population of its 34 adult prisons by thousands of inmates. The U.S. Supreme Court twice rebuffed Brown administration appeals, and the prison system's population has now been reduced by even more than the judges mandated.
Karlton also guided national class action litigation that allowed undocumented immigrants who fit a certain profile to take advantage of an amnesty program that immigration authorities were blocking for otherwise eligible applicants.
He presided over a bitter and protracted legal confrontation between water users and environmentalists that eventually returned water and habitat viability to a part of the San Joaquin River.
And he upheld an educator's right to prevent students from injecting their religious beliefs into high school graduation ceremonies, and slapped down professional debt collectors for predatory and intimidating tactics.

"Like few other judges," said Sacramento criminal defense attorney Clyde Blackmon, "he understood that people could find themselves in difficult situations, but there were often mitigating circumstances."
William B. Shubb, the longest-serving federal judge sitting in the Sacramento-based Eastern District, said Sunday that Karlton's dedication to the law was contagious.
Continue reading here: http://www.sacbee.com/news/local/article27104569.html#storylink=cpy